It is officially 2011. There are a lot of people getting married every year and while most are traditional, some are not. As a planner I take on many roles including family mediator at times and I realize that there are many people who not ready for a break from tradition. So I gathered some articles to shed some light on adjusting to the different weddings you may be invited to in the near future. Because no matter what the situation is, congrats really is always the right thing to say.
1. Civil Hall Ceremonies.
There are many reasons couples choose this option but two main types come immediately mind; couples wanting a very small wedding and gay couples. Both groups deserve the excitement and support that all "traditional" weddings get and should certainly not feel like their wedding is being compared. For small wedding budgets, guests are limited so instead of thinking about what is missing, think about how lucky you have been considered important enough to be invited! As for gay marriages, no matter what your personal feelings are on the issue, this wedding is not an "issue". Being invited to a wedding is a sacred honor from the couple who loves you and wants you to celebrate with them on their biggest day. If you have any concerns about what to say, check out
this post
on what NOT to say to gay couples getting married. Or
this post
from a gay blogger discussing the pressures of planning a gay wedding.
2. Pregnant Bride or Couple With Kids
. While I think most brides will agree that being pregnant on your big day is not ideal, if you are invited to a wedding with a pregnant bride, please do not make anyone feel guilty. This may sound obvious, but any comments could be taken the wrong way and especially once the alcohol starts flowing, that could present a problem (remember that a pregnant bride is a sober bride and WILL remember every detail of her big day). The same goes for a couple that already has a child. Having a guest state that "its about time" will only take away from the special day. Things happen and now the lovely couple is now taking the next big step and has invited you to their wedded union. All is well that ends well!
3. Young Love.
While the idea of young love is nice, a lot of people are skeptical of couples who are still in their teens or very early twenties heading into marriage (anyone remember the MTV show "
Engaged & Underage
"?). I personally know two couples who were high school sweethearts, now married and have been together for 14 years and 15 years respectively. But there are some people who do not know how to react or how to be excited for young couples. Check out
this post
from a 19 year old bride who is continually being told that she is too young to get married. Seeing the bride's perspective may put a different spin on things for you.
4. Second Marriages.
Typically this is not too much of an issue because people going into second marriages take things a little slower. But with the divorce rate as high as it is, there are more much second marriages just due to sheer odds. If you are invited to a 'second marriage' wedding, please keep the "I guess you have some practice" comments out the door. The couple has willfully entered into this commitment and that is the only reassurance you should need. Finding love once is hard enough and if a loved one is lucky enough to find it twice, even more reason to celebrate!
5. Elopements.
These are less common but still an option for some couples. Whatever their reasons, they do not need to justify them to you. Unless you are their parents and even then, the decision is still 100% the couple's decision. If you feel left out of the celebration, invite the newlyweds over for dinner at your place and relish in the one on one time you would never get an a traditional reception!
6. Short Dating Relationship
. Hello Khloe Kardashian & Lamar Odom! They were together for one month before they got married. Yes,
married
, not engaged. And they just celebrated their one year anniversary. When you know, you just know and for some couples that realization doesn't take years. Even if you can't help but be skeptical, treat it like a plate of food. Fill up on excitement, love, and support and keep the skepticism to a "no thank you portion" off to the side. If you can get your fill with all the good stuff, all the better.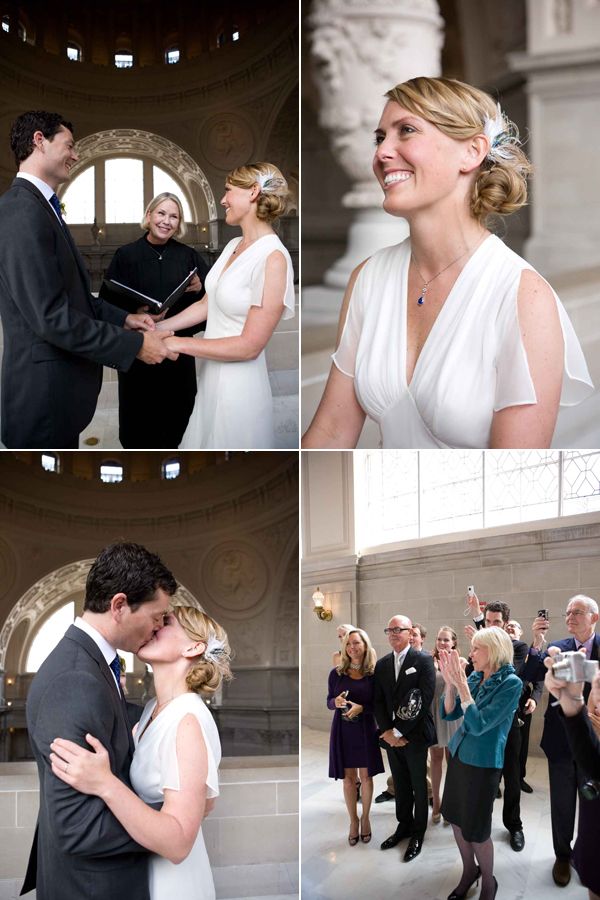 Intimate (and love-filled!) civil ceremony.
Source