When most people think of weddings, they think of wedding traditions. Whether it be cultural, religious, or family based, I am a huge fan of incorporating meaningful traditions into weddings, the key word being
meaningful
. Some couples become so focused on tradition and pleasing everyone, that the couple loses sight of what they want on their big day. It really is up to each couple to decide where they want to draw the line. Because really, isn't the best wedding 'tradition' that of joyous, happy couples vowing to share their lives together?
I recently went to friend's wedding as a guest and had a great time. It was fairly nontraditional; an afternoon beach wedding in November (in Delaware), a short ceremony, no bridal party aside from the couple's dog, 30 guests, and a casual atmosphere. At one point the bride asked me what my opinion was of her wedding as a wedding planner. I told her that it was perfect because it was exactly what they wanted. And that really is what I want for every couple; clients or friends. If a tradition is important to you, keep it. If it is not, toss it. Brides in particular feel the need to incorporate every detail people throw at them. Overall comfort (literally and metaphorically) is going to go a lot further than feeling forced into a tradition. Example A: a lot of couples are opting for outdoor ceremonies which a decade or two ago was unheard of. Breaking tradition could be as simple as not having a wedding cake or seeing each other before the ceremony (see my
First Look post
).
My advice is to go online and search through wedding blogs. I guarantee that you will find some awesome inspiration from brides who did exactly what they wanted. The website
OffBeat Bride
in particular is always featuring real weddings that have a whole lot of personality. Here are a few real weddings that I've found that I hope will give you inspiration to plan your wedding the way you want it. Enjoy!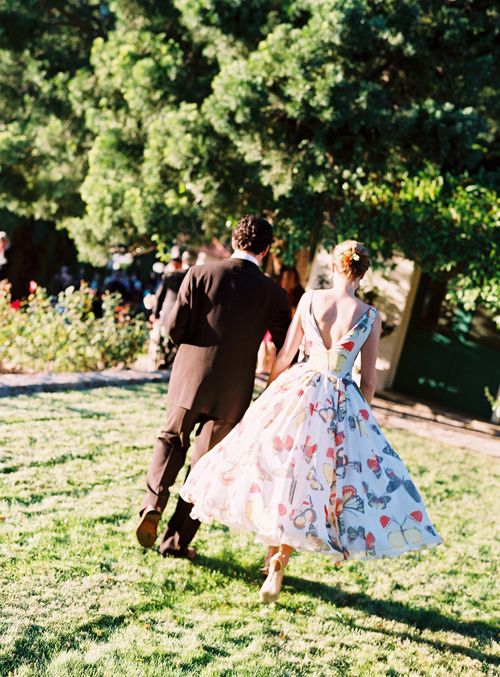 Beautiful butterfly bridal dress (say that 5 times fast).
Source
Beach wedding in November.
Source
Who says all the bridesmaids have to match?
Source
This couple decided to tend bar for a bit
so they could interact with all their guests!
Source
Who says a long dress is required?
Source